The Ultimate Blog Party
T h e U l t i m a t e B l o g P a r t
y
...and you are invited!
Who: All Bloggers and/or Store Owners
When: March 2, 2007 ~ March 9, 2007
Link before March 8th @ 12:00 am and invite guest, then
just add the button to your sidebar to be eligible to win prizes!
Woohoo!
Where: Janice and Susan's place over at
5 Minutes For Mom
Everyone who signs up through Mr Linky is a host!
It is to be a week long bash!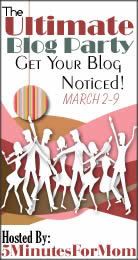 (Janice and Susan have always loved BIG parties – the bigger the better. They dislike being exclusive – so EVERYONE is invited!)

So if you would like to join in on all the fun simply click on the button on my sidebar, and get all the details. You can then copy and paste the code into your sidebar and send out your own invites.


Come on over to the party
It will be a week long bash starting March 2, 2007 and ending with the big prize giveaway on March 9, 2007.

All party guests who sign the Mr. Linky by 12pm Eastern on March 8, 2007 and who invited guests (invited friends via a post and have an Invitation Button on their blog) are eligible for our random draw prizes. Prizes will be announced at 5 Minutes for Mom at 7pm Eastern on March 9, 2007.

Note: Please use only the central Mr. Linky at 5 Minutes for Mom. Since only bloggers listed on this Linky will be eligible for prizes, we don't want anyone to miss out by adding their name to another Linky. Please link directly to your Ultimate Blog Party post or have your Ultimate Blog Party post as a sticky at the top of your home page.

We are all hosting!
This Blog Party is all about meeting people – so put out some food, turn up the music and tell us a bit about yourself.

Yes – what would a party be without small talk? Be as funny, creative or straight forward as you like. Include a recipe or two, stream some music or videos, add a voice post or video of yourself, decorate your place – whatever will put you in a party mood. Be creative and have fun!

You can sign up to host a free prize for the random drawing they are having too!


They are encouraging us to get out there and MINGLE!
Don't sit in a corner and only chat with people you know! Search the Linky and look for names you don't recognize and head on over to their place to meet some new people.
And Then… and this is so fun we are just so excited…
The week after the Blog Party, they want you to write a post and introduce some of the new bloggers you meet at the party.
Edited to add: Just to clarify,
everyone
is invited, regardless of parental status, gender, religious affiliations, etc. This party is about having fun with friends and meeting new people.
Apple has recently announced that they are coming out with the i phone. Friends, let me tell you this is like a mini computer, i pod, and a traveling map...all in one. No keyboard, unless you pull it up. Everything is available via the touch screen...watch the keynote.
Check it out here
!
So, it is just the two of us looking forward to having oodles of fun at the blog party and hoping you will be there too!