Somethings Remain The Same
Whenever I make one of our favorite family dishes. I usually make one up to serve and one to freeze for a later date. That way, whenever we have unexpected company or we are rushed for time or just feeling plain lazy, as was the case today. I just take the dish out, throw it in the microwave; thaw it, then toss it in the oven and ooh la la! Lasagna!
Last night Kevin and Renee brought over our sweet Little Ben. They got his picture taken at the Mall and wanted to drop one by for us.
The little Elmo outfit is one of his gifts from just the two of us that they had his picture taken in. He seemed a little out of sorts when he walked in and I realized all the pretty lights, the singing moose and the train that he liked to play with were all gone, put away til next Christmas. Needless to say, it was as if he came prepared with radar and honed right in on our Shih Tzu, Shivan! Before you knew it we were playing a game of block and tackle. He is at that cute age where he just giggles and jabbers nonstop but rarely uses words that mean anything. Without being factitious, it makes me wonder when he does start talking and using meaningful words is he going to be like a politician and never stop talking!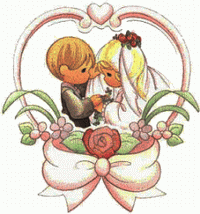 Today, we would like to wish our Son, Kevin and Renee a Happy 2nd Anniversary! May God bless you with continued love, laughter, happiness and a healthy little baby sister next month for Little Ben! We are so proud of you both and all of your early accomplishments. Kevin, we know it hasn't been easy, raising a young family, holding down a demanding job and attending college full-time...and Renee, he wouldn't be sucessful without your love and support. While change is imminent and things rarely stay the same one thing that will always remain steadfast and true is our heartfelt love for you two. Keep God first in your marriage and all things are possible!
So, it's just the two of us enjoying this 80 degree weather and hoping you are enjoying your spring like weather, as well.