Happy 23rd B-day to Our Daughter!








For Our Lovely Sweet Daughter
on her birthday...

Holding you, cradling you, admiring all that made you so precious,
with a love that welled up inside of us and was infectious.
You melted into our hearts,
right from the very start.

We dreamed of you for oh, so long,
and when you were born it filled our hearts with sweet song.
A lovely melody to last our whole life through,
like the sweet morning dew that completes you.

You are the bright ray of sunshine that lights up our days,
your smile, your giggle, is what we crave in so many ways.

Watching you grow up and seeing all of your talents unfold,
Piano, softball fastpitcher, journalist, your competitive spirit,
a confident, beautiful young Christian woman to behold.

My darling sweet baby girl, although there were times I called you a pistol,
You will always remain our sweet angel... Chrystal.
Your Father and I couldn't be more proud
let our voices ring out "we love you", and very loud.

by, Pamela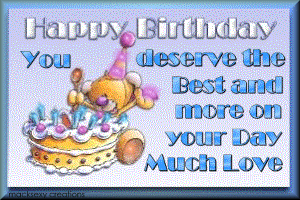 So, it's just the two of us wishing a
Happy 23rd Birthday
to our lovely sweet Daughter, Chrystal!
...and wishing you all a Happy and Joyous New Year 2007!


Chrystal got a new Mac laptop for Christmas and created a new blog called
Life's a Dance
, she would love it if you would drop by and wish her a Happy Birthday!