Saturday Photo Scavenger Hunt ~ Plush
It is fun to participate in the Saturday Photo Hunt that is hosted by
tnchick
. This week's photo hunt theme is:
Plush
If you would like to play along click on the link below.
Just the two
of us
splurged when we took the whole family up to
the Wisconsin Dells. It is one of the best kept secrets.
in family vacation resorts.
The family suite we rented at this
plush
resort was
called the Volcanic Suite. It slept 8 people.

It was decorated with tropical palm tree murrals
one of which, glowed in the dark. It had a volcano that
lit up when you walked through it to the bedroom. It had
a round bed that had stars on the ceiling of it and
played surround sound music, along with a light show.
All seven of us could easily fit in the 6 person spa.
The big screen TV, reminded me of a pool table turned sideways.
It was indeed very memorable and very plush!
So it's
just the two of us
glad we were able to stay
at such a plush resort, but grateful to be home sweet home!

Thanks to all of you for the sweet
birthday wishes yesterday!

I will always cherish my blog friends!
I just discovered that Larae, a sweet blog friend
posted a really cute post about my Birthday yesterday!
If you all want to see it swing on over to
The Everyday Ramblings of a Northern Southerner

Have a great weekend!


Sending out a big Happy Birthday wish to our brother

Dave


in San Diego!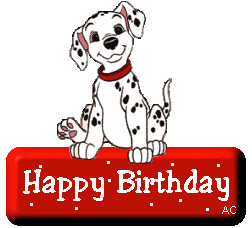 Susie

is a sweet blog friend, and today is her hubby's 39th birthday!
So, go on over to A Pink Carnation in Bloom and wish

Skip

a
Happy Birthday!